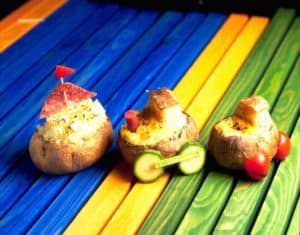 Depending on the age of the children, they really enjoy making their own. Making these is a great 'game' at a boy's birthday party.
Bake the potatoes, fill them with cheesy mash, and make just one or two examples. Then allow the children to choose from the platter of garnishes to make their own creations.
Ingredients per person:
1 medium baking potato, washed
¼ cup grated cheese
1 Tbsp tomato sauce or relish, optional
Garnish:
cherry tomatoes, sliced
black olives, pitted and sliced
red capsicum, deseeded and sliced
sliced ham, sliced into sticks
carrot, celery, courgette sliced into rings or sticks
slices of cheese, sliced into sticks
sliced salami
salami sticks, sliced into sticks
cocktail sticks for fixing.
Bake potatoes in the oven or microwave as below.
While potatoes are still warm, slice off the top third of the potatoes length ways. Then using a teaspoon carefully scoop potato flesh from both parts into a small bowl. Keep one or two tops unscooped if making cars and trains that need extra shape.
Mix in grated cheese and relish, then spoon the potato flesh back into the larger potato shell.
Mould and decorate the potato into the shape desired e.g. a boat, car or train, as below.
Suggestions:
Boat: use half a slice of ham or salami fixed with a cocktail stick, topped with a piece of capsicum for a sail.
Train: use a piece of salami stick for the funnel of the train with wheels made from courgette slices, fixed with a stick of cheese using toothpicks. Slice a piece of the top of the baked potato to be the part of the engine.
Car: use tomato halves or olives for the wheels. Slice a piece of the top of the baked potato to be the top of the car.
Oven Baked potatoes
Preheat oven to 220°C. Prick each potato several times with a fork.
Rub potatoes with a little oil and place on a baking tray in the middle of the oven. Bake in preheated oven for 45-60 minutes, or until potatoes are tender. Test with the point of a knife. Remove potatoes from the oven and follow instructions as above.
Microwaved Baked potatoes
Prick potatoes with a fork to pierce the skin. Place in microwave, and cook on high power for about 4-5 minutes for each potato; two potatoes will take 8-10 minutes. The time depends on the power of the microwave and the size of the potatoes. Carefully remove potatoes from the microwave and follow instructions as above.
Nutrition Information Panel
Per Serving [ Serves]
Energy
5915 kJ
Protein
84.2g
Total fat
– saturated fat
106g
66g
Carbohydrates
– sugars
47g
7.9g
Fibre
4.5g
Gluten
5g
Sodium
3771g