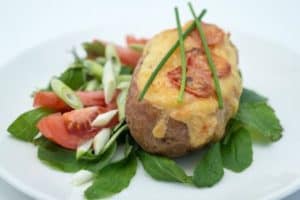 So tasty, and easy to make.
Serves 4
4 large baking potatoes
½ cup milk
1½ cups grated Edam cheese
3-4 Tbsp chopped fresh chives
pinch salt
freshly ground black pepper, to taste
24 thin slices tomato
salad leaves
tomato wedges
1 spring onion, sliced on the diagonal
chives
Bake the potatoes as below.
Slice each potato in half and scoop out the flesh into a bowl. Add milk and mash until smooth.
Add 1 cup of cheese, chopped chives, salt and pepper and mix well.
Pile back into the potato skins. Place 3 slices of tomato on each potato half.
Top with remaining cheese and place under preheated grill until golden and crunch on top.
Serve with salad leaves, tomato wedges, sliced spring onion and garnished with chives.
Option: Make up to grilling stage and refrigerate until needed.
Oven Baked potatoes
Preheat oven to 220°C. Prick each potato several times with a fork.
Rub potatoes with a little oil and place on a baking tray in the middle of the oven. Bake in preheated oven for 45-60 minutes, or until potatoes are tender. Test with the point of a knife. Remove potatoes from the oven and follow instructions as above.
Microwaved Baked potatoes
Prick potatoes with a fork to pierce the skin. Place in microwave, and cook on high power for about 4-5 minutes for each potato; two potatoes will take 8-10 minutes. The time depends on the power of the microwave and the size of the potatoes. Carefully remove potatoes from the microwave and follow instructions as above.
Nutrition Information Panel
Per Serving [ Serves]
Energy
2120 kJ
Protein
32.8g
Total fat
– saturated fat
28g
16.9g
Carbohydrates
– sugars
39g
6.6g
Fibre
5.4g
Gluten
0g
Sodium
999g
Gluten Free