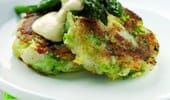 A stunning way to enjoy new season asparagus but equally delicious served with tomatoes or avocado.
Serves 2-3
300g medium boiling potatoes, diced
150g Savoy cabbage, shredded
2 Tbsp oil
200g asparagus spears, ends broken off
2-3 Tbsp Hollandaise sauce
Boil potatoes for approx 8 minutes, adding the cabbage for the last 2-3 minutes.
Drain and mash roughly, then season to taste.
Cool slightly before shaping bubble and squeak mixture into 4 equal burger-shapes.
Heat the oil in a frying pan and fry the bubble and squeak burgers for 2 minutes on each side or until golden.
Meanwhile, if using, boil the asparagus for 4-5 minutes or until tender. Drain.
Serve the bubble and squeak topped with asparagus and Hollandaise sauce.
Nutrition Information Panel
Per Serving [2-3 Serves]
Energy
1154 kJ
Protein
6.8g
Total fat
– saturated fat
15.5g
1.8g
Carbohydrates
– sugars
31g
6.6g
Fibre
5.3g
Gluten
5g
Sodium
110g