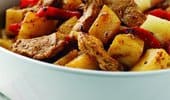 This is a fabulous way to try a new flavour – the Cajun seasoning adds a spicy taste to the dish.
Serves 3-4
400g boiling or new potatoes, diced
1 Tbsp oil
250g chicken breast, sliced
1 red capsicum, sliced
1 Tbsp Cajun seasoning
2 rings canned pineapple in juice, chopped
2 Tbsp pineapple juice
Boil potatoes for approx 8 minutes or until tender. Drain.
Heat oil in a large frying pan.
Stir fry chicken, capsicum and Cajun seasoning for 5 minutes.
Add pineapple pieces and juice to the potatoes.
Stir fry for 1-2 minutes.
Serve immediately.
Nutrition Information Panel
Per Serving [4 Serves]
Energy
831 kJ
Protein
18g
Total fat
– saturated fat
5g
0.7g
Carbohydrates
– sugars
20g
5.3g
Fibre
2.7g
Gluten
0g
Sodium
47g
Gluten Free