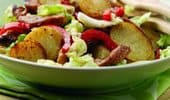 Fresh, light and healthy and surprisingly easy for such a stunning flavour. For a vegetarian option, remove the chicken breast.
Serves 4
800g boiling or new potatoes, thickly sliced
2 Tbsp vegetable oil
400g chicken breast, thinly sliced
1 red capsicum, deseeded and sliced
1½ Tbsp Chinese 5 spice seasoning
¼ head of Iceberg lettuce, finely sliced
1 Tbsp white wine vinegar
Boil potatoes for approximately 8 minutes or until tender. Drain.
Heat oil in a large heavy-based frying pan and stir fry chicken and capsicum for 5 minutes.
Add potatoes and seasoning and cook for a further 2-3 minutes.
Place lettuce in a large serving bowl and drizzle with vinegar.
Add chicken and potato mixture and serve warm.
Nutrition Information Panel
Per Serving [4 Serves]
Energy
1391 kJ
Protein
27g
Total fat
– saturated fat
9.5g
1.5g
Carbohydrates
– sugars
34g
2.9g
Fibre
4.5g
Gluten
0g
Sodium
68g
Gluten Free