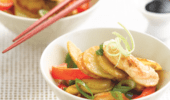 Hoisin sauce, has a delicious sweet oriental flavour and is very popular in Chinese cooking. It gives this simple dish a really tasty twist.
Serves 4
4 medium baking potatoes
4 chicken breasts, sliced into chunks
½ cup sweet corn, fresh or frozen kernels
1 red capsicum, deseeded and sliced into large cubes
2 Tbsp Hoisin sauce or plum sauce
3 spring onions, finely sliced
Preheat oven to 200ºC.
Place potatoes, chicken, sweet corn and capsicum into a large baking tray.
Drizzle with sauce and toss gently to coat vegetables.
Spread out into one single layer on the tray.
Place in preheated oven for 25-30 minutes or until browned and tender.
Garnish with spring onions and serve.
Tip: Place a sheet of baking paper on the tray before adding the vegetables.
Nutrition Information Panel
Per Serving [4 Serves]
Energy
1372 kJ
Protein
44g
Total fat
– saturated fat
4.7g
1.4g
Carbohydrates
– sugars
26g
4g
Fibre
4.2g
Gluten
g
Sodium
233g