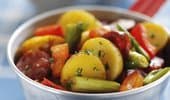 The spicy flavour of the Chorizo enhances the flavours of the other vegetables.
Serves 4
350g boiling or new potatoes, sliced
225g chorizo sausage, deskinned and sliced
1 red capsicum, deseeded and diced
½ bunch spring onions, sliced
2 tomatoes, diced
chopped chives for garnish
Place potatoes in a saucepan and cover with cold water.
Bring to the boil and simmer for 5-6 minutes until tender. Drain.
Heat a heavy-based frying pan, add chorizo and capsicum and stir fry for 2-3 minutes.
Add spring onions, tomatoes and potatoes and cook for 2-3 minutes.
Serve garnished with chives.
Nutrition Information Panel
Per Serving [4 Serves]
Energy
1488 kJ
Protein
13.5g
Total fat
– saturated fat
26g
10g
Carbohydrates
– sugars
17g
3.5g
Fibre
2.5g
Gluten
0g
Sodium
1044g
Gluten Free