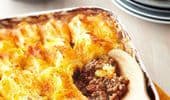 Try this tasty potato and beef dish and always choose Quality Mark beef and lamb.
Thanks very much to Beef Lamb NZ for sharing this recipe.
Beef:
1kg Quality Mark beef mince
1 medium-sized onion, finely chopped
2 medium-sized carrots, peeled and grated
2 stalks celery, strings removed with vegetable peeler, finely chopped
150 ml red wine (optional)
400g can chopped tomatoes in juice
1 Tbsp tomato paste
250 ml beef stock
2 Tbsp fresh parsley, finely chopped
2 tsp fresh thyme leaves, finely chopped
Topping:
1.2kg mashing potatoes, such as Agria, peeled and cubed
200 ml milk
25g butter
1 cup grated cheddar cheese or ¼ cup freshly grated Parmesan cheese
1 tsp smoked paprika
To serve:
Green peas, steamed or boiled
Preheat the oven to 190°C.
Beef:
Heat a dash of oil in a large heavy-based saucepan over a medium-high heat. Add the beef mince and brown, stirring with a wooden spoon to break up the mince as it browns. Remove and set aside.
Reduce the heat to low, add another dash of oil and cook the onion for at least 5 minutes until soft. Increase heat and add carrot and celery and cook for a further 5 minutes. Pour in the wine if using, and bring to the boil. Return beef mince to the saucepan with tomatoes, tomato paste and stock. Season as required.
Reduce heat, cover and cook mince mixture at a gentle simmer for 30 minutes, stirring occasionally until most of the liquid has evaporated. Stir through the chopped herbs.
Topping:
Boil potatoes in lightly salted water until tender. Drain and dry over the heat then mash or pass through a mouli or potato ricer. Using a wooden spoon, beat in the milk and butter. Stir through the cheese.
To assemble:
Spoon mince mixture into a large ovenproof dish (6 cup capacity), top with the potato mash and sprinkle with smoked paprika. Place in the oven and cook for 30 minutes until hot and bubbling.
To serve:
Serve cottage pie with green peas.
Nutrition Information Panel
Per Serving [ Serves]
Energy
386 kJ
Protein
7.8g
Total fat
– saturated fat
3.4g
1.9g
Carbohydrates
– sugars
8.8g
1.2g
Fibre
1.5g
Gluten
5g
Sodium
65g