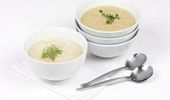 What better to have on a cold winter evening than a delicious soup
Serves 4
1 Tbsp vegetable oil
2-3 cm piece fresh ginger, peeled and chopped
1 bulb fennel, finely sliced
2 boiling potatoes, peeled and chopped
3 cups vegetable stock
Heat oil in a large saucepan, add ginger and stir fry briefly. Add fennel, potatoes and stock and simmer over a low heat until vegetables are cooked.
Remove from heat, cool slightly and purée with a hand held blender.
Reheat and serve.
Fennel and potato soup is the soup on the left. The soup on the right is Radish soup.
Nutrition Information Panel
Per Serving [4 Serves]
Energy
932 kJ
Protein
9.5g
Total fat
– saturated fat
12.4g
2.4g
Carbohydrates
– sugars
15.2g
3.3g
Fibre
7.7g
Gluten
g
Sodium
151.4g