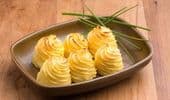 An impressive way to serve mashed potatoes.
Makes 6
500g mashing potatoes, washed, peeled and sliced into pieces
1 tsp flaky sea salt
25g butter
1 egg yolk
20 ml cream
Preheat oven to 200°C.
Place potatoes and salt in a saucepan. Cover with cold water, bring to the boil and simmer until tender. Drain potatoes and allow to steam until all of the moisture has evaporated.
Mash potatoes and stir in the butter. Season with salt to taste.
Place potato mixture in to a piping bag with a 2 cm star piping nozzle fitted. Pipe rosette shaped mounds, approximately 4 cm at the base and 7 cm high, on to a lightly greased oven tray.
Mix egg yolk and cream together, then brush each of the rosette mounds with the mixture.
Bake in preheated oven until browned. Serve.