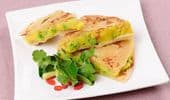 A tasty Indian flavoured snack.
500g mashing potatoes, peeled and chopped
50 ml canola oil
1 tsp cumin seeds
1 tsp turmeric powder
1 red chilli, deseeded and finely chopped
1 clove garlic, peeled and finely chopped
pinch salt
1 cup cooked peas
4 roti
Cook the potatoes until soft, drain and mash.
Heat the oil and add cumin, turmeric, chilli, garlic and salt and cook 2-3 minutes.
Add the peas and potatoes and mix well.
Place half the potato mixture between 2 roti, repeat.
Slice each roti sandwich into wedges and serve.