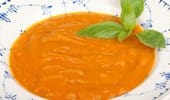 A rustic and tasty soup which can be puréed for a crème style soup.
Serves 4-6
3 rashers bacon, diced
1 onion, peeled and chopped
2 cloves garlic, peeled and crushed
1 tsp curry paste (gluten free)
500g pumpkin, peeled, deseeded and diced
3 mashing potatoes, peeled and diced
pinch salt
white pepper, to taste
½ tsp sugar
4 cups water
4-6 sprigs basil
Heat a heavy-based saucepan pan.
Brown the bacon over a moderate heat, add onion, garlic and curry paste.
Lower heat and cook over a low heat for about 5 minutes or until the onion is lightly browned and transparent.
Add the pumpkin, potatoes, salt and pepper, sugar and water.
Cover and simmer until the pumpkin and potato are tender.
Mash the mixture with a potato masher. Thin with water, milk or vegetable water.
Reheat to steaming hot, without boiling, just before serving.
Garnish with basil.
Nutrition Information Panel
Per Serving [6 Serves]
Energy
572 kJ
Protein
8g
Total fat
– saturated fat
2.6g
1g
Carbohydrates
– sugars
19g
6.7g
Fibre
2.7g
Gluten
0g
Sodium
372g
Gluten Free