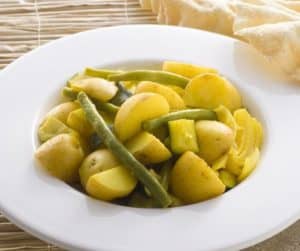 A delicious and easy one-dish way to try these different Indian vegetables.
Serves 4
5-10 snake beans, sliced into quarters
10-12 small baking potatoes, sliced into quarters
1 cup Indian marrow, diced
1 onion, peeled and sliced into wedges
1-2 Tbsp mild curry powder
1 x 165g can coconut milk
Preheat oven to 180°C.
Place all ingredients in a baking dish and mix well.
Cover and bake in preheated oven for 40 minutes or until potatoes are tender.
Serve with poppadoms.
Variation: garnish with chopped coriander.
Tip: For a spicier curry use a hot curry powder.
Nutrition Information Panel
Per Serving [4 Serves]
Energy
615 kJ
Protein
3.5g
Total fat
– saturated fat
0.9g
0.3g
Carbohydrates
– sugars
29g
7g
Fibre
4.6g
Gluten
0g
Sodium
60g
Gluten Free