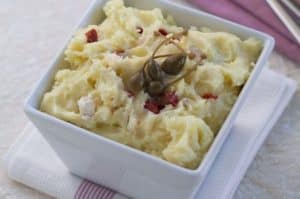 This delicious flavoured mash is great with pan fried fish.
Serves 4
4 large mashing potatoes, peeled and sliced into even-sized pieces
¼-½ cup warm milk
2 Tbsp olive oil
½ cup capers or olives
¼ cup sliced sun-dried tomatoes
¼ cup crumbled feta cheese
¼ cup finely chopped parsley or chives
pinch salt
freshly ground black pepper, to taste
3-4 caper berries, for garnish
Boil potatoes in lightly salted water until tender. Drain.
Add milk and oil, then mash.
Add extra milk if necessary to make the potatoes smooth and creamy.
Mix in capers (or olives), sun-dried tomatoes, feta and herbs.
Add salt and black pepper. Garnish with caper berries and serve.
To boil potatoes:
Scrub or peel potatoes as required. Slice in half or even-sized pieces.
Place in a heavy-based saucepan and cover with cold water. Place a lid on the saucepan.
Bring to the boil, reduce heat and simmer for 10-15 minutes or until tender when tested with the point of a knife. Drain.
The length of cooking time depends on the size of the pieces of potato.
Nutrition Information Panel
Per Serving [4 Serves]
Energy
1095 kJ
Protein
7g
Total fat
– saturated fat
15.9g
4.4g
Carbohydrates
– sugars
21.4g
3g
Fibre
4g
Gluten
0g
Sodium
364g
Gluten Free