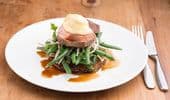 A delicious and impressive dish to wow friends and family.
Serves 1
25 ml white wine vinegar
½ bay leaf
2-3 peppercorns
tarragon stalks
1 egg yolk
80g clarified butter, melted
½ tsp chopped fresh tarragon
salt, to taste
50g green beans, top and tailed
10g bean sprouts
2-3 sprigs Italian parsley
olive oil
lemon juice
salt, to taste
cracked black pepper, to taste
4-5 garlic cloves, skin on
200 ml beef stock
1 potato rosti (see our recipe)
1 portion fillet steak, cooked as required
Place vinegar, bay leaf, peppercorns and tarragon stalks in a small saucepan. Gently heat so that it reduces in quantity to one third of its original volume. Pass through a fine strainer and allow to cool.
Combine the vinegar mixture and egg yolk in a small bowl. Place this over a saucepan of simmering water and whisk vigorously until the egg yolk has doubled in volume and is a paste. Remove from the heat and slowly whisk in the clarified butter. This will form a smooth sauce. Add the tarragon and salt. Keep the finished sauce at room temperate and cover with cling film until required.
Place beans in boiling salted water. Remove and plunge immediately into ice cold water to stop the cooking process. Remove from the water, dry and combine with the bean sprouts and Italian parsley sprigs. Dress with olive oil and a few drops of lemon juice as required. Season with salt and cracked pepper.
Preheat oven to 180°C.
Coat garlic cloves in a small amount of olive oil and roast in preheated oven for 10 minutes or until the garlic is soft and the skins can easily be removed. Peel the garlic and retain the cloves for later use.
Reheat the rosti potato and garlic cloves in a hot oven, 200°C, for 6 minutes.
Place the beef stock into a pot, bring to the boil and reduce in quantity to approximately half of the original volume to form a syrupy sauce.
Place the warm rosti in the centre of a dinner plate with the garlic and bean salad arranged neatly on top. Place a slice of fillet steak on top of the salad. Finish by spooning the reduced beef stock over the steak and placing the béarnaise sauce on top.