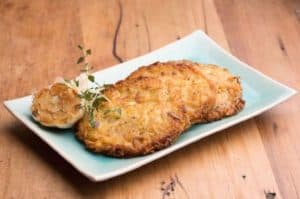 This recipe makes 4 large rostis – a tasty potato dish for breakfast, brunch, lunch or dinner.
1kg roasting potatoes, washed and peeled
2 tsp flaky sea salt
1 tsp freshly ground black pepper
200 ml vegetable oil for frying
100g unsalted butter
Preheat the oven to 180°C.
Grate potatoes into a large bowl. Squeeze excess water from the grated potatoes before placing into a clean bowl. Season with the salt and pepper.
Divide the seasoned potato mixture into four even portions.
Heat a large non-stick frying pan (at least 27 cm in diameter) and add approximately 50 ml of the oil. Once this is hot and starting to release vapour, add 25g of butter and one of the portions of grated potato.
Using a spatula, press the grated potato so it forms a large circular pancake shape which is no more than 1 cm thick at its deepest point. One portion should evenly fill the base of a 27 cm frying pan.
Adjust the heat slightly so the potato fries gently in the oil and butter mixture. As soon as the base is starting to turn golden flip the potato over with a fish slice and fry the second side.
When the second side of the potato mixture has started to crisp and turn golden, remove the rosti from the pan and place on an oven tray.
Repeat this process for the remaining three potato portions.
Place the rosti into the preheated oven for 10 minutes to finish the cooking process.
Serve immediately.