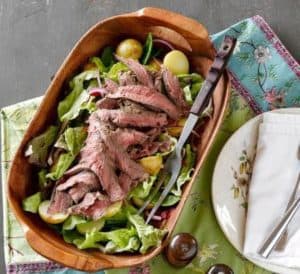 Try this tasty potato and beef dish and always choose Quality Mark beef and lamb.
Thanks very much to Beef Lamb NZ for sharing this recipe.
Serves 4-6
Beef:
500g Quality Mark rump steak trimmed of fat
2 Tbsp rosemary sprigs, finely chopped
3 fat cloves garlic, peeled and crushed
½ Tbsp peppercorns, crushed with back of spoon
½ tsp salt
½-1 Tbsp oil
½ cup red wine
Potato Salad:
700g gourmet or baby new boiling potatoes, cut in even-sized pieces
3 Tbsp cider vinegar
5 Tbsp olive oil
1 tsp brown sugar
1 tsp Dijon mustard
½ red onion, sliced
½ red capsicum, sliced
bag of mixed baby leaves
handful of snow peas, sliced plus any salady bits you wish
Beef:
Mix rosemary, garlic, and peppercorns with the salt and oil.
Rub the paste over both sides of the steak, place on a plate and cover with cling film. Refrigerate for half an hour or longer if possible, turning once.
For the potato salad:
Cover the potatoes with cold salted water and bring to the boil. Boil until tender. While the potatoes are cooking, prepare the dressing by combining the cider vinegar, second measure of oil, brown sugar and Dijon mustard. Mix well.
Drain the potatoes and allow them to dry, then while still warm add the sliced red onion and the prepared dressing, tossing well. Slice the other salad vegetables.
To finish and serve:
Heat a heavy-based frying pan to its highest temperature and add the steak. Cook on high for approx. 4 minutes each side (for medium rare).
In the final minute add the wine and continue to cook, turning the steak once. Remove the steak and rest for a minute or two before slicing thinly on the diagonal.
Simmer the wine for a minute or two more, until the liquid has reduced and thickened.
Arrange the lettuce or salad leaves on a platter, layer on the dressed potatoes (warm or cold), add the other salad vegetables then layer on the sliced beef.
Drizzle with the remaining pan juices.
Nutrition Information Panel
Per Serving [ Serves]
Energy
933 kJ
Protein
21.6g
Total fat
– saturated fat
12.6g
4.8g
Carbohydrates
– sugars
4.7g
0.56g
Fibre
0.59g
Gluten
0g
Sodium
254g
Gluten Free