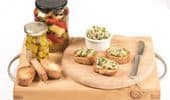 Savour the big strong flavours – delicious on toast or try on a baked potato.
Makes ½-1 cup
2 bulbs garlic
50g can anchovies, chopped
1-2 Tbsp chopped parsley
1-2 Tbsp olive oil
Preheat oven to 170°C.
Slice top off garlic bulbs and place in baking dish. Spray with olive oil.
Cook for 30-40 minutes until the cloves are soft. Pop the garlic out of its skins.
Roughly chop peeled garlic cloves and place in a bowl with anchovies and parsley.
Add olive oil to make a coarse spread.
Serve on toasted bread or add extra oil and serve as a dip.
Images:
Top left: Pickled vegetables
Bottom left: Roast garlic in oil
On right: Garlic and anchovy spread
Nutrition Information Panel
Per Serving [Per 100g Serves]
Energy
637 kJ
Protein
6.9g
Total fat
– saturated fat
12.8g
2.2g
Carbohydrates
– sugars
1.8g
0.2g
Fibre
2.2g
Gluten
0g
Sodium
1097g
Gluten Free