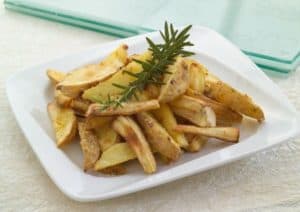 Parsnip and potatoes make a great combination when roasted in garlic and rosemary.
Serves 4
4-6 roasting potatoes, washed and sliced into wedges
2 small parsnips, sliced lengthwise into quarters
2 Tbsp flour
4 cloves garlic, peeled and finely chopped
2 Tbsp vegetable oil
pinch salt
freshly ground black pepper, to taste
3-4 rosemary sprigs
Preheat oven to 200°C.
Place all ingredients except salt, pepper and rosemary in a roasting pan. Toss to coat.
Bake in preheated oven for 25-35 minutes or until golden brown and crunchy.
Turn several times during cooking.
Add salt and black pepper.
Garnish with rosemary sprigs.
Nutrition Information Panel
Per Serving [4 Serves]
Energy
736 kJ
Protein
5.5g
Total fat
– saturated fat
0.4g
0.09g
Carbohydrates
– sugars
35.7g
3.8g
Fibre
4.3g
Gluten
g
Sodium
267g