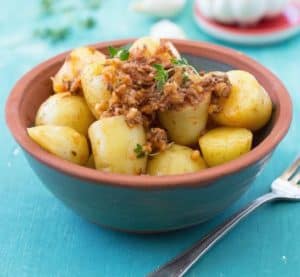 This piquant salsa, served over the potatoes, is said to have originated in the Canary Islands. Awesome for garlic lovers.
Serves 4
3 cloves garlic, peeled and crushed
1 tsp cumin seeds
1 tsp paprika
4 Tbsp olive oil
2 tsp white vinegar
4 Tbsp warm water
500g boiling potatoes, sliced into even-sized pieces
pinch salt
To make the salsa, crush the garlic and cumin seeds together using a mortar and pestle. When very smooth/fine, add the paprika. Then very gradually add the olive oil. When blended, add the vinegar and water. Place in a screw top jar.
Place potatoes into a saucepan with a lid.
Add enough cold water to just cover the potatoes. Season to taste.
Place the lid on the saucepan and bring to the boil.
Once the potatoes come to the boil, reduce heat and simmer gently. Vigorous boiling will cause most potatoes to break up. Drain.
Pour salsa dressing over the warm potatoes and serve.
Option: Steam potatoes instead of boiling them. Do not season.