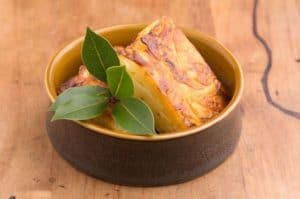 Make this dish in advance then reheat and serve for lunch with smoky bacon.
Serves 4
800g mashing potatoes, washed and peeled
300 ml cream
½ white onion, sliced
1 bay leaf
3-4 sprigs of thyme, finely chopped
2 tsp flaky sea salt
20g melted butter
2-3 butter wrappers
Preheat oven to 180°C.
Finely slice potatoes and place in a bowl.
Place the cream in a saucepan with onion and bay leaf. Bring to the boil before simmering until reduced in quantity to approximately half of the original volume. Strain this mixture over the sliced potatoes.
Add thyme and salt to the potato and cream mixture. Mix well.
Line a loaf tin with well-greased cooking paper. Arrange overlapping slices of the potatoes in to this tin (approximately 5 cm deep). Pour a small amount of remaining cream back in to the tin. The aim is to just coat the potatoes in enough cream to coat them. The liquid should not form a pool in the tin.
Place in preheated oven and bake for approximately 35 minutes, or until cooked.
To test whether the potatoes are cooked, place a skewer through the thickest part of the mixture; once the potatoes are cooked the skewer will pass through easily.
Remove the potatoes from the oven and allow to cool completely in the tin. Add a small weight to the surface area of the tin to gently apply enough pressure to lightly press the potato mixture down. This helps achieve a compact gratin potato.
Remove the gratin potato from the tin and slice as required. The potato slices can be reheated in an oven preheated to 170°C for 10-12 minutes.