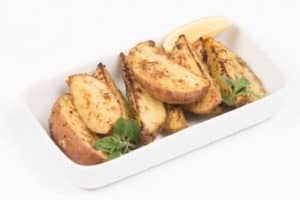 Try these tasty wedges – a great snack to eat while watching TV.
Serves 8
8 baking potatoes, washed, sliced into large wedges (about 6-7 per potato)
4 cloves garlic, peeled and crushed
½ cup olive oil
1 Tbsp dried oregano
grated rind of 1 lemon
freshly ground black pepper, to taste
Preheat oven to 200°C.
Place potatoes, garlic, oil, oregano and lemon rind in a large baking dish. Season with pepper.
Bake in preheated oven for about 40 minutes or until golden and crisp.
Remove from oven and serve.
Nutrition Information Panel
Per Serving [8 Serves]
Energy
1030 kJ
Protein
3.8g
Total fat
– saturated fat
15g
2.5g
Carbohydrates
– sugars
24g
0.7g
Fibre
3g
Gluten
0g
Sodium
6.3g
Gluten Free