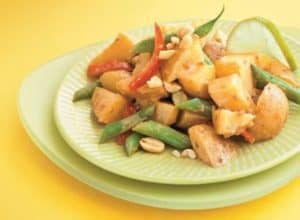 For a little crunch, garnish your salad with fresh roasted peanuts.
Serves 4
6 boiling or new potatoes, washed and halved
250g green beans, sliced into bite-sized pieces
2 red capsicums, deseeded and sliced
Dressing
¼ cup smooth peanut butter
¼ cup lite coconut milk
1 tsp lite soy sauce
2 Tbsp vegetable oil
1 tsp sesame or peanut oil
pinch salt
freshly ground black pepper, to taste
lime slices for garnish
dry roasted peanuts, chopped
Boil potatoes in lightly salted water until just cooked. Drain and set aside to cool.
Blanch beans by placing in rapidly boiling water for 2-3 minutes. Remove and cool in iced water or cold running water. Drain well and set aside.
Dressing:
In a bowl mix peanut butter, coconut milk, soy sauce, vegetable and sesame oils together.
In a large bowl, gently combine vegetables. Mix in dressing and add salt and pepper.
Garnish with lime slices and peanuts and serve.
To boil potatoes:
Place potatoes in a saucepan and add sufficient cold water to just cover.
Place a lid on the saucepan and bring to the boil as quickly as possible, reduce heat and simmer gently.
Cook until tender (15-20 minutes) when tested with a skewer or tip of a knife.
Add extra boiling water if necessary. Drain and serve.
The cooking time will depend on the size of the pieces of potato.
Note: Always simmer vegetables as vigorous boiling will cause some vegetables to break up.
Nutrition Information Panel
Per Serving [4 Serves]
Energy
1941 kJ
Protein
15.4g
Total fat
– saturated fat
24.6g
3.5g
Carbohydrates
– sugars
54g
6.1g
Fibre
7.9g
Gluten
5g
Sodium
377g