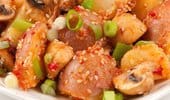 The aromatic flavours of the seeds, ginger and chilli spice up the red potatoes.
Serves 4-5
4 medium red skinned boiling or new potatoes, washed
1 Tbsp sesame oil
1 Tbsp sesame seeds
1 tsp mustard seeds
2 Tbsp grated fresh ginger
1 Tbsp chilli sauce (gluten free)
2 Tbsp lemon juice or white vinegar
6-8 button mushrooms, quartered
2 spring onions, finely sliced
Boil, steam or microwave potatoes until tender but still firm. Slice into bite-sized chunks.
Heat oil in a frying pan, and stir in sesame seeds, mustard seeds and ginger. Stir fry for 1-2 minutes.
Add chilli sauce and lemon juice and mix well. Add potatoes and mushrooms.
Remove from heat and when cool place on a platter and sprinkle with spring onions. Serve.
To boil potatoes:
Scrub or peel potatoes as required. Slice in half or even-sized pieces.
Place in a heavy-based saucepan and cover with cold water. Place a lid on the saucepan.
Bring to the boil, reduce heat and simmer for 10-15 minutes or until tender when tested with the point of a knife. Drain.
The time of cooking will depend on the size of the pieces of potato.
Visit the cooking section of the website for more information – http://www.vegetables.co.nz/cooking/
Nutrition Information Panel
Per Serving [5 Serves]
Energy
587 kJ
Protein
4.1g
Total fat
– saturated fat
4.1g
0.6g
Carbohydrates
– sugars
20.4g
1.8g
Fibre
3.3g
Gluten
0g
Sodium
96g
Gluten Free