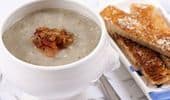 A great winter soup.
Serves 4-6
1.2kg Jerusalem artichokes, washed and sliced into chunks
1-2 mashing potatoes, peeled and sliced into chunks
pinch salt
100g bacon, diced
1 clove garlic, peeled and chopped
2 shallots, peeled and finely sliced
¼ cauliflower, grated
1 L vegetable stock
freshly ground black pepper, to taste
Place Jerusalem artichokes and potatoes in a medium heavy-based saucepan. Cover with cold water, add salt, bring to the boil, and simmer until soft. Drain.
Heat heavy-based saucepan over medium heat. Add bacon and cook until almost browned. Add garlic and shallots and cook until golden brown.
Reserve some for garnish.
Add cauliflower and cook for 1-2 minutes.
Add artichokes, potatoes and stock to the saucepan, bring to the boil, reduce heat and simmer for 10-15 minutes, or until vegetables are soft.
Purée using a stick blender. Taste and add salt and pepper if required.
Reheat to steaming hot. Serve in soup plates, sprinkled with black pepper and garnish with reserved bacon and shallot mixture.
Serve with toast.
Nutrition Information Panel
Per Serving [6 Serves]
Energy
1014 kJ
Protein
12.7g
Total fat
– saturated fat
13.6g
4g
Carbohydrates
– sugars
12. 5g
6.3g
Fibre
11.4g
Gluten
g
Sodium
315g