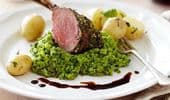 Try this tasty potato and lamb dish and always choose Quality Mark beef and lamb.
Thanks very much to Beef Lamb NZ for sharing this recipe.
Serves 4
Lamb:
1 Quality Mark lamb rack with 8 cutlets
Salt and freshly ground pepper for seasoning
Herb paste:
2 Tbsp oil
1 Tbsp capers
2 cloves garlic, roughly chopped
3 Tbsp chopped fresh herbs e.g. flat-leaf parsley, mint, basil
Pan jus:
½ cup red wine
1 cup Campbell's Real Stock – Salt Reduced Beef
1 tsp butter
Pea crush:
3 cups frozen baby peas
1½ cups chopped spinach
Zest of 1 lemon
1 tsp lemon juice
¼ cup grated parmesan
¼ cup cream
Minted potatoes:
600g boiling or new potatoes, peeled and sliced into even-sized pieces
2 sprigs mint
1-2 Tbsp butter
2 Tbsp chopped mint for garnish
Lamb:
Trim any fat from the lamb rack and carefully remove the silverskin with a sharp knife. Season with salt and pepper. Heat 1 Tbsp of oil in a pan over a very high heat. Sear the lamb racks for a couple of minutes until browned all over. Remove from the pan and set aside to cool. Don't wash the pan.
Herb paste:
In a small food processor or mortar and pestle (or chop everything finely), mix the oil, capers, garlic and fresh herbs to a chunky paste. Smear the mixture generously over the cooled lamb racks and leave for 30 minutes, or longer if you have time.
Pan jus:
Add the wine to the hot pan in which the lamb was cooked and let it bubble up for 30 seconds. Add the stock and simmer gently until reduced to a light sauce or jus, about 5-10 minutes. Whisk in the butter. Set aside and keep warm.
Pea crush:
Cook peas in salted boiling water until tender. Drain and place in a food processor with the spinach, lemon zest and juice, parmesan and cream. Process until well combined but still a little chunky. Taste and season as required (you can use a potato masher instead of a food processor).
Tip: make sure you do it when the peas are hot so they wilt the spinach.
Minted potatoes:
Scrub or peel potatoes as required. Slice in half if necessary.
Place in a heavy-based saucepan with the sprigs of mint and cover with cold water. Place a lid on the saucepan.
Bring to the boil, reduce heat and simmer for 10-15 minutes or until tender when tested with the point of a knife. Drain.
Add butter and chopped mint to cooked potatoes and toss to coat evenly.
Preheat the oven to 210°C.
Place the lamb rack in a roasting dish and roast in the preheated oven for 13-15 minutes. Remove from the oven, cover and rest for 10 minutes before slicing into 2-bone pieces. Spoon some pea purée on four plates, top with a 2-bone piece of lamb rack and drizzle jus over. Serve with minted potatoes.
Nutrition Information Panel
Per Serving [4 Serves]
Energy
2305 kJ
Protein
32g
Total fat
– saturated fat
29g
13g
Carbohydrates
– sugars
51.5g
2.8g
Fibre
8.2g
Gluten
5g
Sodium
544g