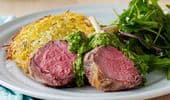 Try this tasty potato and lamb dish and always choose Quality Mark beef and lamb.
Thanks very much to Beef Lamb NZ for sharing this recipe.
Serves 4
Lamb:
1 Quality Mark lamb rack with 8 cutlets
Potato rosti:
6-7 mashing potatoes, peeled and grated
2 tsp rosemary, finely chopped
2 Tbsp butter, melted
¼ cup oil
Pistou:
½ cup fresh Parmesan, grated
1 cup fresh basil leaves
½ cup fresh mint leaves
1 clove garlic, crushed
3 anchovy fillets
1 Tbsp red or white wine vinegar (or use lemon juice)
4 Tbsp olive oil
Preheat the oven to 220°C.
Lamb:
Trim the fat layer off the lamb rack. Rub the rack with a little oil and season with salt and pepper.
Heat a frying pan until hot, then sear the lamb for a few minutes each side to brown (or if you leave the fat layer on, cook this side longer to render out some of the fat and crisp it up nicely).
Transfer the lamb to a roasting dish and bake in the oven for 12-16 minutes depending on how you like it done. Remove from the oven, cover loosely with foil and leave to rest for 10-15 minutes before carving across the grain.
Rosti:
Squeeze as much liquid out of the grated potato as you can, the more the better. Combine the potato, rosemary and melted butter in a bowl and season with salt and pepper. Press down into 5-6 patties about 2cm thick. Heat oil over a medium-high heat and fry the rosti until golden brown on both sides, about 5-7 minutes. Transfer to the middle of the oven for 15-20 minutes to finish cooking while the lamb rests.
Pistou:
Place all ingredients in a food processor or mortar and pestle and blend (or chop everything very finely). You may need to add more oil if it's too thick. Taste and season if required.
To serve:
Slice the lamb rack into 1 or 2 bone cutlets, drizzle with a little pistou and serve with the rostand a salad or vegetables.
Nutrition Information Panel
Per Serving [4 Serves]
Energy
2878 kJ
Protein
30.7g
Total fat
– saturated fat
45.4g
13.3g
Carbohydrates
– sugars
46.7g
1.1g
Fibre
4.9g
Gluten
0g
Sodium
325g
Gluten Free