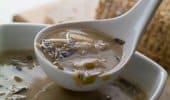 This delicious soup is just perfect for those colder nights – quick and easy to make with a flavour that is just perfect.
Serves 4-6
2 Tbsp vegetable oil
2 leeks, sliced
3 boiling or new potatoes, peeled and chopped
1 L chicken stock
2 cups milk
Heat oil in a heavy-based saucepan, add leeks and potato and stir fry until leek is softened.
Add stock and simmer gently for 15-20 minutes or until potatoes are tender. Purée if wished.
Return to the saucepan. Add milk and heat gently, but do not boil.
Serve.
Nutrition Information Panel
Per Serving [6 Serves]
Energy
616 kJ
Protein
6.3g
Total fat
– saturated fat
6.2g
1.3g
Carbohydrates
– sugars
15.9g
6.7g
Fibre
2.3g
Gluten
g
Sodium
381g