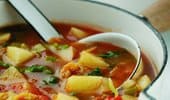 For a special occasion replace some of the stock with a glass of red wine.
Serves 4
1.5 L vegetable stock
1 leek, finely sliced
400g boiling or new potatoes, skin left on, sliced into 1 cm dice
400g tomatoes, roughly chopped
150g cabbage, finely sliced
pinch salt
freshly ground pepper, to taste
1 Tbsp oregano, chopped (optional)
Place stock in a large heavy-based saucepan.
Add leeks, potatoes and tomatoes, bring to the boil and simmer for 10 minutes.
Add cabbage and simmer for a further 3-4 minutes.
Add salt and pepper and serve garnished with oregano.
Nutrition Information Panel
Per Serving [4 Serves]
Energy
1511 kJ
Protein
18g
Total fat
– saturated fat
18.3g
4.1g
Carbohydrates
– sugars
25g
9.2g
Fibre
13.3g
Gluten
g
Sodium
323g