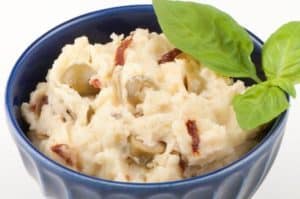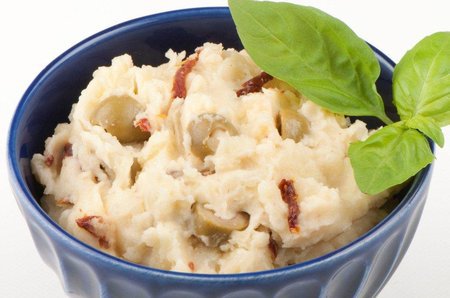 Always use floury potatoes when making mashed potatoes.
Serves 4
4 mashing potatoes, peeled and sliced into even-sized pieces
¼ cup milk, hot
¼ cup sliced sun-dried tomatoes
2 Tbsp sun-dried tomato oil, lite olive oil or vegetable oil
¼ cup sliced stuffed olives
freshly ground black pepper, to taste
Place potatoes in a heavy-based saucepan, cover with cold water and bring to the boil.
Reduce heat and simmer for 15-20 minutes or until soft. Drain.
Mash in milk, adding extra milk if necessary to make potatoes smooth and creamy.
Stir in sun-dried tomatoes, oil and olives.
Add pepper and serve.
Nutrition Information Panel
Per Serving [4 Serves]
Energy
860 kJ
Protein
3.6g
Total fat
– saturated fat
9.5g
1.2g
Carbohydrates
– sugars
25.5g
3.5g
Fibre
3.2g
Gluten
0g
Sodium
444g
Gluten Free