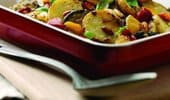 A slightly more exotic take on the classic potato bake. This recipe can make a satisfying meal, or be served as an accompaniment to a main.
Serves 4
800g boiling or new potatoes, thickly sliced
500g mixed Mediterranean-style vegetables, e.g. eggplant, courgettes, deseeded capsicums, roughly chopped
50g pine nuts
1 Tbsp vegetable oil
pinch salt
freshly ground black pepper to taste
2 Tbsp pesto
Preheat oven to 200°C.
Place potatoes, vegetables and pine nuts in a large roasting tin.
Add oil, salt and pepper.
Bake in preheated oven for 20-25 minutes or until tender.
Stir in the pesto and cook for a further 5 minutes.
Serve immediately.
Serving suggestion: Serve with grilled haloumi and crusty bread for a meal.
Nutrition Information Panel
Per Serving [4 Serves]
Energy
1324 kJ
Protein
10.8g
Total fat
– saturated fat
13.4g
1.8g
Carbohydrates
– sugars
36g
4.9g
Fibre
6.1g
Gluten
0g
Sodium
296g
Gluten Free