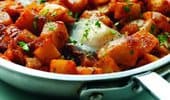 Serve this with grilled bacon, for a tasty brunch.
Serves 2
300g medium boiling potatoes, diced
1 Tbsp vegetable oil
1 yellow capsicum, diced
1 onion, chopped
½ x 30g pack fajita seasoning mix
4 Tbsp water
2 eggs
Boil potatoes for 6-8 minutes or until tender. Drain.
Heat oil in a heavy-based frying pan and stir fry capsicum and onion for 3-4 minutes.
Add the fajita seasoning with water.
Stir in the potatoes and cook for 1-2 minutes.
Transfer to a heatproof serving dish. Make 2 hollows in the mixture and add the eggs.
Place under a preheated grill for 2-3 minutes.
Serve immediately.
Variation: Replace fajita mix and water with 4 Tbsp of a Mexican flavour sauce.
To boil potatoes:
Place prepared potatoes in a heavy-based saucepan and add sufficient cold water to just cover.
Place a lid on the saucepan and bring to the boil as quickly as possible, reduce heat and simmer gently.
Cook until tender when tested with a skewer or tip of a knife. Time will depend on size of pieces.
Add extra boiling water if necessary. Drain and serve.
Note: Always simmer vegetables as vigorous boiling will cause some vegetables to break up.
Nutrition Information Panel
Per Serving [2 Serves]
Energy
1235 kJ
Protein
10.8g
Total fat
– saturated fat
11g
1.8g
Carbohydrates
– sugars
35.5g
6.9g
Fibre
3.8g
Gluten
g
Sodium
562g