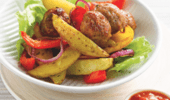 A simple, tasty one-tray meal that everyone will love.
Serves 4
250g lean beef mince
1 Tbsp sweet chilli sauce
pinch of salt
freshly ground black pepper, to taste
4 medium roasting potatoes, sliced into small thin wedges (8-10 per potato)
1 red onion, thickly sliced
1 red capsicum, deseeded and sliced into chunks
1 yellow capsicum, deseeded and sliced into chunks
2 cloves garlic, peeled and crushed
2 Tbsp canola oil
150-200 ml tomato salsa
Preheat oven to 200ºC.
In a bowl combine mince, chilli sauce and seasoning and shape into 10-12 balls.
Place potatoes, onion, capsicums, garlic and oil on a large baking tray.
Combine and spread into a single layer, then add the meatballs.
Bake in preheated oven for 20-25 minutes or until potatoes are tender and golden and meatballs are cooked.
Serve with tomato salsa and salad leaves.
Nutrition Information Panel
Per Serving [4 Serves]
Energy
1585 kJ
Protein
17.4g
Total fat
– saturated fat
19.4g
6.4g
Carbohydrates
– sugars
32.5g
8g
Fibre
4.4g
Gluten
5g
Sodium
662g