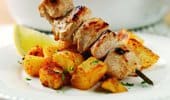 Marinating the chicken with the harissa and yoghurt makes it very tender.
Serves 4
150g natural yoghurt
1 tsp ground cumin
2½ tsp harissa paste
500g chicken breast, diced
800g new or boiling potatoes, diced
1 Tbsp vegetable oil
1 Tbsp chopped parsley
4 skewers, soaked in water
Mix together yoghurt, cumin and ½ tsp harissa paste.
Stir in the chicken and leave to marinate for 5 minutes.
Boil the potatoes for approx 8 minutes or until tender, and then drain.
Thread the chicken pieces onto 4 skewers and grill for 12-15 minutes, turning occasionally until cooked through.
While the chicken is cooking, heat the oil in a large frying pan and fry potatoes with the remaining harissa paste for 2-3 minutes.
Garnish with chopped parsley before serving.
Tip: The kebabs can be cooked ahead and frozen, and then simply thaw and cook until piping hot.
Nutrition Information Panel
Per Serving [Serves 4]
Energy
1465 kJ
Protein
34.2g
Total fat
– saturated fat
8.7g
2.7g
Carbohydrates
– sugars
32.5g
1.9g
Fibre
3.6g
Gluten
5g
Sodium
131g