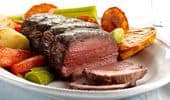 Try this tasty potato and beef dish and always choose Quality Mark beef and lamb.
Thanks very much to Beef Lamb NZ for sharing this recipe.
600-800g piece of lean Quality Mark beef such as whole sirloin, topside, bolar or chuck
1 Tbsp mild mustard
2 Tbsp oil
4 medium roasting potatoes and/or kumara, peeled and quartered
4 carrots, peeled and cut into chunks
2 leeks or other seasonal vegetables, cut into chunks
Preheat the oven to 180°C.
Place the beef on a rack in a roasting dish.
Roast in preheated oven for 45 minutes.
Remove from the oven and spread the mustard over the top of the beef.
Toss the vegetables in the oil and scatter around the beef.
Return to the oven for a further 45 minutes or until the meat is tender and the vegetables cooked.
Remove from the oven and allow the meat to stand for 10 minutes before carving.
Place the vegetables in the oven at 100°C to keep warm.
Serve the roast beef thinly sliced with the vegetables.
Nutrition Information Panel
Per Serving [Serves 4]
Energy
454 kJ
Protein
9.9g
Total fat
– saturated fat
4.7g
1.4g
Carbohydrates
– sugars
6.3g
1.5g
Fibre
1.4g
Gluten
0g
Sodium
42.5g
Gluten Free