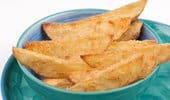 With a touch of paprika, these wedges are delicious.
Serves 4
4-6 large roasting potatoes, washed and sliced into wedges
1-2 tsp paprika
1 tsp mustard powder
¼ cup flour
pinch salt
freshly ground black pepper, to taste
2 Tbsp vegetable oil
Preheat oven to 200°C.
Place potatoes, paprika, mustard powder, flour, salt and pepper in a plastic bag. Shake well to evenly coat potatoes.
Heat oil in a baking dish for 2-3 minutes then add wedges.
Bake in preheated oven, uncovered for 20-30 minutes or until wedges are golden brown and crunchy.
Turn during cooking.
Serve with light sour cream or tomato salsa.
Variation: Experiment with other spices – replace paprika and mustard powder with other spices e.g. curry powder, Cajun spices, garlic pepper, a sprinkling of caraway or mustard seeds.
Nutrition Information Panel
Per Serving [Serves 4]
Energy
979 kJ
Protein
5.6g
Total fat
– saturated fat
7.4g
0.8g
Carbohydrates
– sugars
34.9g
0.7g
Fibre
4.4g
Gluten
g
Sodium
40g