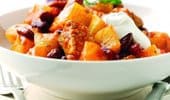 A fabulous one pan meal that makes the most of fresh ingredients and ready to use simmer sauces.
Serves 4-5
1 Tbsp vegetable oil
500g diced pork fillet
1 yellow capsicum, deseeded and diced
750g boiling or new potatoes, diced
410g can kidney beans, drained and rinsed
500g jar chilli con carne sauce or 1 packet of chilli con carne seasoning
Heat the oil in a large saucepan and stir fry the pork and capsicum for 5 minutes.
Add the potatoes, kidney beans and chilli con carne sauce. Wash the jar out with a little water and add to the pan.
Bring to the boil, cover and simmer for 25 minutes or until potatoes and pork are cooked through.
Serve immediately.
Nutrition Information Panel
Per Serving [Serves 4-5]
Energy
3037 kJ
Protein
55.5g
Total fat
– saturated fat
12.2g
3.2g
Carbohydrates
– sugars
84.6g
12.6g
Fibre
30.9g
Gluten
5g
Sodium
610g