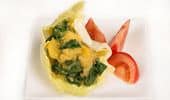 Use as part of a tapas selection or increase this recipe for a tasty family dish.
Serves 4-6
vegetable oil spray
½ onion, peeled and diced
1 tsp ground cumin
¼ tsp turmeric
600g boiling or new potatoes, washed and sliced into quarters
1-2 bunches spinach, leaves torn
¼-½ cup Malay curry sauce
8-10 lettuce cups
2-3 tomatoes, sliced into wedges, for garnish
Heat a large heavy-based lidded frying pan, spray with oil, add onion, cumin and turmeric. Stir fry for 1-2 minutes. Add potatoes and add cold water to just cover.
Bring to the boil, reduce heat and simmer for 8-10 minutes until the potatoes are cooked and the liquid reduced.
Add spinach leaves and heat through until spinach is wilted.
Stir through curry sauce and serve in lettuce cups. Garnish with tomato wedges.
Nutrition Information Panel
Per Serving [6 Serves]
Energy
607 kJ
Protein
5.5g
Total fat
– saturated fat
2.3g
0.5g
Carbohydrates
– sugars
22.9g
4.7g
Fibre
6.4g
Gluten
g
Sodium
125g