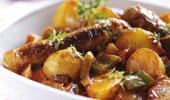 A quick, easy and tasty meal suitable for the family.
Serves 4
1 Tbsp vegetable oil
500g boiling or new potatoes, halved if larger than a golf ball
4-6 sausages
1 onion, peeled and sliced
1 green capsicum, deseeded and diced (optional)
1 x 340g jar tomato pasta sauce
5-6 sprigs of thyme for garnish
Heat oil in a large heavy-based frying pan.
Add potatoes and sausages and fry for 5 minutes.
Add onion and capsicum and cook for a further 5 minutes.
Turn sausages occasionally until browned.
Add pasta sauce, rinse jar with a little water and add to the pan.
Cook, covered for 10-12 minutes, or until the potatoes are tender.
Garnish and serve.
Nutrition Information Panel
Per Serving [4 Serves]
Energy
2079 kJ
Protein
25.4g
Total fat
– saturated fat
24.7g
10.25g
Carbohydrates
– sugars
42.8g
15.2g
Fibre
9.5g
Gluten
g
Sodium
1563g