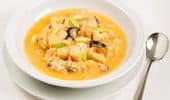 Try making this easy tasty soup – this recipe is gluten free.
Serves 4
1 Tbsp vegetable oil
1 onion, peeled and diced
4 general purpose potatoes, washed and diced
pinch salt
½ tsp ground black pepper
3 cups water
¼ cup gluten free tomato sauce
1 cup water, approx
12 cooked mussels, sliced in half
2 Tbsp lite coconut milk, optional
sliced spring onion for garnish
Heat oil in a large heavy-based saucepan, add onions and stir fry until just cooked.
Add potatoes, salt and pepper, first measure of water and tomato sauce.
Simmer for 25-30 minutes or until potatoes are cooked.
Add second measure of water and the mussels.
Heat to steaming hot, remove from heat, add coconut milk, if using, garnish and serve.
To cook mussels:
12-14 fresh unopened mussels in the shell, beard removed and rinsed.
Place ½-1 cup water in a large saucepan and bring to the boil.
Add mussels and put on the lid. Reduce heat and steam for 5-10 minutes.
When mussels have opened they are cooked. Do not use any mussels that have not opened.
Remove from saucepan, cool and remove from shell.
Nutrition Information Panel
Per Serving [ Serves]
Energy
983.6 kJ
Protein
11g
Total fat
– saturated fat
6.8g
1.2g
Carbohydrates
– sugars
35.8g
7.6g
Fibre
3.3g
Gluten
0g
Sodium
854g
Gluten Free