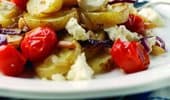 This is an easy and delicious meal.
Serves 4-5
800g boiling or new potatoes, sliced into 1 cm slices
1 red onion, peeled and sliced
2 cloves garlic, peeled and finely chopped
250g cherry tomatoes
2 Tbsp vegetable oil
50g pine nuts (optional)
125g feta, crumbled
freshly ground black pepper, to taste
Preheat oven to 200°C.
Place potatoes, onion, garlic, tomatoes, oil and pine nuts (if using) in a large baking dish and mix well.
Bake for 25 minutes, turning once during cooking.
Stir in the feta and cook for a further 5 minutes or until the potatoes are tender.
Add pepper and serve hot.
Variation: Add 150g defrosted prawns with the feta cheese for the final 5 minutes of cooking, and serve on a bed of lightly wilted spinach.
Nutrition Information Panel
Per Serving [5 Serves]
Energy
1288 kJ
Protein
10g
Total fat
– saturated fat
15.9g
4.9g
Carbohydrates
– sugars
29.5g
4.7g
Fibre
4.4g
Gluten
0g
Sodium
366g
Gluten Free