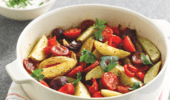 A simply and tasty one-tray meal. The spicy chorizo and smokey paprika add a touch of zing to this dish.
Serves 4
4 medium roasting potatoes, cut into thin small wedges
2 Tbsp vegetable oil
1-2 chorizo sausages, thickly sliced
2 red capsicums, deseeded and sliced into chunks
1 red onion, peeled and thickly sliced
½ tsp paprika
3 tomatoes, roughly chopped
freshly ground black pepper, to taste
4 Tbsp lite sour cream (optional)
2 chives or similar green herbs, finely chopped
Preheat oven to 200ºC.
Place potatoes, oil, sausage, capsicums and onions into a roasting dish.
Mix together and spread into a single layer then sprinkle with paprika.
Place in preheated oven for 25 minutes or until vegetables are tender and golden.
Combine sour cream and chives in a bowl.
Transfer vegetables to a serving dish, add tomatoes and pepper and serve with the sour cream and chive mixture.
Nutrition Information Panel
Per Serving [4 Serves]
Energy
2139 kJ
Protein
16.9g
Total fat
– saturated fat
37.2g
13.2g
Carbohydrates
– sugars
26.8g
8.2g
Fibre
4.1g
Gluten
g
Sodium
1169g