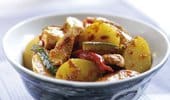 The tomato paste and Worcestershire sauce give this recipe a great flavour.
Serves 4
350g boiling or new potatoes, thickly sliced
1 Tbsp vegetable oil
400g chicken breast, cut into thin strips
500g sliced vegetables e.g. courgettes, capsicums
1 Tbsp Worcestershire sauce
2 Tbsp sundried tomato paste
Place potatoes in a heavy-based saucepan and cover with cold water.
Bring to the boil, reduce heat and simmer for 8-10 minutes or until tender. Drain.
Meanwhile, heat the oil in a large heavy-based frying pan, add chicken and stir fry for 4-5 minutes.
Add vegetables and potatoes and stir fry for a further 3-4 minutes or until vegetables are tender.
Stir in Worcestershire sauce and tomato paste and stir fry for 1 minute.
Serve.
Nutrition Information Panel
Per Serving [4 Serves]
Energy
1032 kJ
Protein
26.8g
Total fat
– saturated fat
5.9g
1.1g
Carbohydrates
– sugars
20.3g
7g
Fibre
3.6g
Gluten
g
Sodium
163g