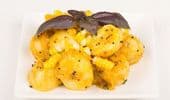 Serve as part of a tapas selection or on the salad table or as part of a meal.
Serves 4-6
400g small boiling or new potatoes, boiled and halved
1 cup hot dog or vegetable relish
kernels from 1 cob of sweet corn
4-6 purple basil sprigs
Place potatoes in a bowl. Add relish and sweet corn and mix. Cover and chill.
Spoon onto small plates and serve garnished with basil sprigs.
To boil potatoes:
Scrub or peel potatoes as required. Slice in half or even-sized pieces.
Place in a heavy-based saucepan and cover with cold water. Place a lid on the saucepan.
Bring to the boil, reduce heat and simmer for 10-15 minutes or until tender when tested with the point of a knife. Drain.
The time of cooking will depend on the size of the pieces of potato.
Nutrition Information Panel
Per Serving [6 Serves]
Energy
583 kJ
Protein
2.3g
Total fat
– saturated fat
0.6g
0.05g
Carbohydrates
– sugars
29.5g
15.5g
Fibre
2.7g
Gluten
g
Sodium
55g