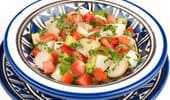 Serve this quick and easy tasty salsa with fish, sausages or chicken.
Serves 4
350g boiling or new potatoes, cooked, cooled, diced into 2 cm pieces
1 red capsicum, deseeded and diced into 1 cm pieces
3 tomatoes, diced into 1 cm pieces
1 bunch spring onions, sliced into 1 cm pieces
1 Tbsp extra virgin olive oil
1 Tbsp lemon juice
6 radishes, sliced finely (optional)
chopped parsley or chives, for garnish
Place potatoes in a bowl.
Mix all remaining ingredients together and pour over potatoes and mix gently.
Garnish with herbs.
To boil potatoes:
Scrub or peel potatoes as required. Slice in half or into even-sized pieces.
Place in a heavy-based saucepan and cover with cold water. Place a lid on the saucepan.
Bring to the boil, reduce heat and simmer for 10-15 minutes or until tender when tested with the point of a knife. Drain.
The time of cooking will depend on the size of the pieces of potato.
Nutrition Information Panel
Per Serving [4 Serves]
Energy
538 kJ
Protein
3.4g
Total fat
– saturated fat
4g
0.7g
Carbohydrates
– sugars
18.2g
4.9g
Fibre
3.2g
Gluten
0g
Sodium
18.3g
Gluten Free