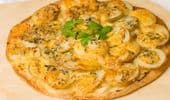 The blue cheese adds a great flavour to this really easy pizza.
Serves 4-8
1 premade pizza base
1 Tbsp olive oil
4 medium general purpose potatoes, cooked, cooled and sliced
70g blue cheese, crumbled
sprig of Italian parsley to garnish
Preheat the oven to 190°C and place a baking tray in oven to heat.
Brush the pizza base with oil, arrange potatoes on top and sprinkle with cheese.
Bake for 15-20 minutes until golden.
Tip: Cook extra potatoes the night before making this dish. Store in the refrigerator.
To boil potatoes:
Scrub or peel potatoes as required. Slice in half or even-sized pieces.
Place in a heavy-based saucepan and cover with cold water. Place a lid on the saucepan.
Bring to the boil, reduce heat and simmer for 10-15 minutes or until tender when tested with the point of a knife. Drain.
The time of cooking will depend on the size of the pieces of potato.
Nutrition Information Panel
Per Serving [8 Serves]
Energy
2685 kJ
Protein
22.4g
Total fat
– saturated fat
12.4g
3.2g
Carbohydrates
– sugars
107g
6.3g
Fibre
8.5g
Gluten
g
Sodium
656g