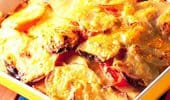 Traditional gratin has onion and potato in layers; this one has leek and tomato and is delicious.
Serves 4-5
vegetable oil spray
4 medium mashing or baking potatoes, washed and very thinly sliced
2 tomatoes, sliced
3 cups thinly sliced leeks
½-¾ cup grated tasty cheese
freshly ground black pepper, to taste
½ cup milk
¼ cup grated tasty cheese
Preheat oven to 180°C.
Use vegetable oil spray to lightly spray an ovenproof dish.
Cover the base of the dish with a layer of potato slices.
Make layers of potatoes, tomatoes, leek, cheese and pepper.
Finish with a layer of potatoes.
Pour milk over the potatoes and sprinkle second measure of cheese over the top.
Cook in preheated oven for about 1 hour or until potatoes are tender and the top is golden brown. If the top is brown before potatoes are cooked cover with foil, return to the oven and continuing cooking.
Remove from the oven and serve.
Nutrition Information Panel
Per Serving [5 Serves]
Energy
1515 kJ
Protein
18g
Total fat
– saturated fat
20g
11.8g
Carbohydrates
– sugars
26g
7.8g
Fibre
5.2g
Gluten
0g
Sodium
399g
Gluten Free