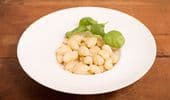 These small potato dumplings are a great base for fork only meals. Try adding chopped tomatoes, pitted olives and chopped salami to the gnocchi and garnish with torn basil and grated lemon zest.
2-4 servings
3 medium floury potatoes, boiled, drained and mashed
1 egg
1 egg yolk
2 Tbsp butter or margarine
2 Tbsp grated Parmesan
pinch salt
¼ tsp white pepper, to taste
½ cup extra virgin olive oil
basil sprig for garnish
Place mashed potato, egg, egg yolk, butter, Parmesan, salt and pepper in a bowl and mix together to make a dough. Cool.
Place the dough on a board and roll out to form a long thin 'sausage'. If it is sticky, sprinkle with a little potato flour.
Cut into 26-28 even portions. Form each portion into an oval and press with the prongs of a fork.
Fill a large saucepan with hot water and bring to the boil. Reduce heat to simmer and add the gnocchi in batches. They will float when cooked. Remove with a slotted spoon.
Serve drizzled with olive oil and garnished with basil.