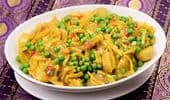 Be sure to use boiling potatoes when making this tasty dish.
Serves 4
1 Tbsp canola oil
2 onions, peeled and sliced
3 red chillies, deseeded and finely sliced
3-4 cm piece of ginger, peeled and finely chopped
2 tsp cumin seeds
1 tsp curry powder
pinch salt
½ tsp ground turmeric
500g small boiling potatoes, halved
juice 1 lime
200-300 ml vegetable stock
1-2 cups peas
Heat the oil in a large heavy-based frying pan.
Add the onions and cook over a low heat for 10 minutes or until soft.
Add the chillies, ginger, cumin seeds, curry powder, salt and turmeric. Cook for 2-3 minutes.
Add the potatoes and lime juice and mix to coat the potatoes.
Add the stock, bring to the boil, then reduce heat and simmer for 20-30 minutes or until the potatoes are soft and the sauce has reduced.
Stir through the peas and cook for another 5 minutes.
Serve.