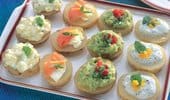 Vegetables, either in dips or with dips, are simple to prepare and delicious to eat before a meal or with drinks at barbecues or parties.
600g small boiling or new potatoes e.g. Nadine, Jersey Benne, Draga, Frisia
Scrub potatoes, do not peel.
Boil or steam until tender but still firm.
Slice into rings about 1 cm thick.
Top with garnish from selection below.
Avocado
Mash avocado and mix with a little lemon juice.
Spread on a potato slice and garnish with finely diced red capsicum and and chopped chives.
Smoked Salmon
Spread cream cheese on a potato slice.
Top with smoked salmon and a sprig of dill or parsley.
Minted cucumber
Blend 1 Tbsp finely chopped mint, a 6 cm piece of cucumber [peeled and seeded] and ¼ cup lite sour cream together until smooth.
Spread on a potato slice and garnish with extra mint leaves.
Curried Egg
Blend 2 hard boiled eggs, ½ tsp curry powder, ¼ cup yoghurt or mayonnaise together.
Spread on a potato slice and garnish with finely diced green capsicum.
To boil potatoes:
Scrub or peel potatoes as required. Slice in half.
Place in a heavy-based saucepan and cover with cold water. Place lid on the saucepan.
Bring to the boil, reduce heat and simmer for 10-15 minutes or until tender. Drain.
The time of cooking will depend on the size of the pieces of potato.
To steam potatoes:
– Choose a saucepan with a steamer.
– Half fill the saucepan with water and bring to the boil.
– Place prepared potatoes in the steamer making sure they do not touch the water.
– Cover and adjust the heat to a steady simmer.
– Cook until they are tender.
– Add more boiling water if necessary.